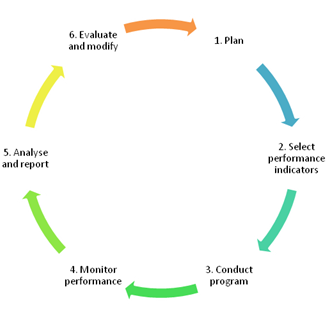 Planning is central to good program design and effective measurement. Program logic can be used to assist planning. This includes:
defining or selecting outcomes
defining impacts
identifying outputs
identifying resources.
Indicators must:
measure performance
refer to a result rather than being descriptive
be well-defined, relevant and informative
be within the control or influence of Directorates
be available, timely and cost-effective
be comparable with a benchmark or previous results over time.
Conduct program in line with program logic.
Monitor performance. Data considerations include:
gathering relevant data by set time frames
ensuring the data is accurate, comprehensive and comparable.
Reporting must:
explain the difference between planned performance and actual performance
provide a picture of overall performance
provide an unbiased and complete picture
identify assumptions, gaps and variances
present information clearly and concisely
provide explanations of assumptions, gaps and variances.
Evaluate and modify.If performance measurement indicates that the program or strategy is not effective, evaluate the program or strategy and consider modifying it.
(Visited 325 times, 1 visits today)