INFORMATION COMMUNICATION TECHNOLOGY (THEORY)
Paper 1
November 2021
THE KENYA NATIONAL EXAMINATIONS COUNCIL
DIPLOMA IN SALES AND MARKETING
DIPLOMA IN SUPPLY CHAIN MANAGEMENT
DIPLOMA IN BUSINESS MANAGEMENT
DIPLOMA IN COOPERATIVE MANAGEMENT
DIPLOMA IN HUMAN RESOURCE MANAGEMENT
DIPLOMA IN ROAD TRANSPORT MANAGEMENT
DIPLOMA IN TOURISM MANAGEMENT
DIPLOMA IN INFORMATION SCIENCE
DIPLOMA IN ENTREPRENEURSHIP
DIPLOMA IN TOUR GUIDING MANAGEMENT
DIPLOMA IN PETROLEUM MANAGEMENT
DIPLOMA IN PROJECT MANAGEMENT
DIPLOMA IN INVESTMENT MANAGEMENT
DIPLOMA IN MARITIME TRANSPORT LOGISTICS
DIPLOMA IN HUMAN RESOURCE MANAGEMENT
DIPLOMA IN DISASTER MANAGEMENT
DIPLOMA IN PRINT JOURNALISM
DIPLOMA IN BROADCAST JOURNALISM
DIPLOMA IN DIGITAL JOURNALISM
MODULE I
INFORMATION COMMUNICATION TECHNOLOGY I (THEORY)
1. (a) State three features that were introduced in the 3 generation computers. (3 marks)
(b) Explain two WAYS which an organization would use information communication technology to communicate to its customers. (4 marks)
(c) A company intends to acquire a printer for their daily use. Outline four criteria that they should consider during the selection of this device. (4 marks)
(d) Dennis has been tasked with creating a document using a presentation program. State eight slide layouts he could use. (4 marks)
2. (a) Hong Che Company intends to control access to files in their computer systems using authentication method.
(i) Explain the term authentication. (2 marks)
(ii) Explain two ways the organization could implement this method (4 marks)
(b) State the category of computer software that performs each of the following tasks in a computer system, giving an example in each case:
(i) Controlling the working of peripheral devices;
(ii) Analyzes, configures, secures, optimizes and maintains the system;
(iii) Allows users to accomplish one or more tasks;
(iv) Used to create, debug, maintain, or otherwise support other programs and applications. (6 marks)
(c) Outline three differences between magnetic and Optic storage media as used in computer Systems (3 marks)
3. (a) State six functions of the computer operating system. (3 marks)
(b) Explain each of the following terns as used in the internet:
(i) Domain;
(ii) Hypertext link. (4 Marks)
(c) Figure l shows features in a Database program. Use it to answer the question that follows.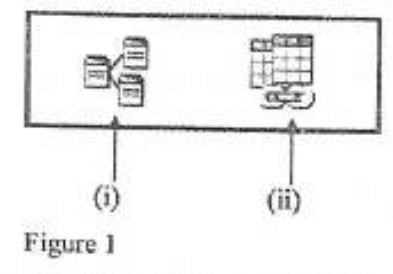 Explain the function or the features labelled (i) and (ii),
(d) Joan has been tasked with the design of a Local Area Network for JuanHo Company.
Outline four types of network topologies he is likely to implement. (4 marks)
4. (a) State six data processing modes that may be used in computer systems. (3 marks)
(b) Explain one circumstance that would necessitate the use of each of the following view features in a presentation program
(i) Slide sorter,
(ii) Slide master, (4 marks)
(c) James intends to use the mail merge feature to send customized letters to his clients.
Explain two documents he should prepare to achieve this. (4 marks)
(d) Distinguish between AutoFill and AutoFormat features as used in spreadsheet applications. (4 marks)
5. (a) Outline three ways that may be used to format the page background of a document created using a word processing application. (3 marks)
(b) Explain two reams for using the print preview feature in a word processing application. (4 marks)
(c) Figure 2 is a spreadsheet extract showing the status of goods supplied and action to be taken by a wholesaler. Use it to answer the question that follows.

Use the If function to write a formula in cell C3 that would display the text "No Action'. if the delivery status of the Apples is delivered or the text "Action to be taken" if delivery status is otherwise. (4 marks)
(d) Karol opted to use templates when creating a document in a presentation program.
Explain two advantages he would get by using this feature. (4 marks)
6. (a) Describe a personal area computer network (PAN) giving two examples of technologies that could be used for its connectivity. (3 marks)
(b) Explain each of the following commands as used in presentation programs;
(i) Hide slides; (2 marks)
(ii) Delete Slides. (2 marks)
(c) Allan prepared teaching notes on the topic file access methods. Explain two methods he could have included in the notes. (4 marks)
(d) John has been tasked with preparing a data backup plan for an organization. Explain two components that he should include in this plan. (4 marks)
(Visited 1,806 times, 1 visits today)